Those who decide to join the ranks of bikers, beginners will always have a question – which motorcycle to take first? In addition to the performance characteristics and the area in which it is planned to use this transport, it will also be necessary to take into account the physical form of the driver.
To decide which option is best for you, you will need to familiarize yourself with the most popular models, as well as ways of choosing the future "iron horse". Consider the best motorcycles of various models.
The best classic motorcycles
1. Kawasaki Estrella 250
The Kawasaki Estrella 250 does not differ in high performance – a comfortable speed of 90 km / h, a maximum speed of 120 km / h, which makes it a good option for moving along city streets. Because it has good maneuverability and small size compared to some scooters.
The motorcycle is well suited for beginners. Easy access to all major components and reliability ensures long engine life. But on condition that every 3000 km the oil will be changed in it. Otherwise, all the main engine parts will quickly become unusable. Almost everything can be removed and unscrewed without the use of special tools.
Pros of a motorcycle:
Good handling.
Excellent maintainability.
Quick access to the main nodes.
Reliability.
Cons of a motorcycle:
Lack of space for a passenger.
Unsuitable for driving on high-speed roads.
No glove compartment.
There is no fuel gauge.
2. Yamaha SR 400
The Yamaha SR 400 was launched in 1978. The design turned out to be so successful that it is still in great demand among motorcycle lovers. The designers had the task to create the most simple motorcycle.
This explains the almost complete absence of plastic parts, a minimum of electronics (even there is no electric starter), but with good controllability for comfortable maneuvering and a good engine of 27 hp. Despite the clearly outdated solutions, the motorcycle is still able to compete with other classic versions, and due to its reliability, it will not require repairs after a short amount of time after purchase.
---
TOP 10 CARS OF THE CELEBRITIES
---
For 100 km, the Yamaha SR 400 will consume approximately 4 liters of fuel. At the same time, the average comfortable speed is at the level of 100 km / h. The weight of the motorcycle is small – 150 kg. 18-inch wheels with long-travel suspension provide it with good cross-country ability and smooth passage of speed bumps. However, due to the low (10 cm) ground clearance, the motorcycle has problems with overcoming obstacles lying across the movement.
Pros of a motorcycle:
Passability.
Good dynamics (in its class).
Comfortable sitting.
Low fuel consumption.
Cons of a motorcycle:
It is impossible to transport goods.
Difficulties with spare parts.
The best sports bike
3. Honda CBR 600 RR
This powerful motorcycle not only has an affordable price point, but also an excellent performance 4-cylinder engine with 117 hp. capable of accelerating the Honda CBR 600 RR to 254 km / h, while the threshold of 100 km / h will be taken in 3.6 seconds.
Highlights his fitness for tall people. Even for a driver taller than 185 cm, the seating position will feel comfortable. The smooth-shifting is complemented by good maneuverability, despite the lack of a reverse fork on some generations of this model.
Fuel consumption is low – 7-8 liters per 100 km, but it can increase up to 13 liters if you keep a high speed at all times. Great for the city and feels great in traffic jams. For which the owners fell in love. At the same time, the motorcycle successfully shows itself on the tracks, which makes it a universal choice. He also has a weight of 200 kg.
Pros of a motorcycle:
Excellent handling.
Convenient transmission.
Good windshield.
Japanese reliability.
Low weight.
Economical fuel consumption.
Fast acceleration.
Cons of a motorcycle:
Expensive consumables.
4. Kawasaki NINJA 650
Sports and tourist motorcycle with a 2-cylinder 4-stroke engine of 650 "cubes", which can accelerate to 100 km / h in 4 seconds. One of the main features is the economical fuel consumption of 4.5 liters per 100 km at a maximum speed of 200 km / h and a gas tank capacity of 15 liters. However, the exact numbers here are highly dependent on the driving style.
Kawasaki NINJA 650 boasts a low weight of 192 kg. This makes the bike a good option for beginners, thanks to its agility that makes it easy to maneuver even on mountain serpentines. An informative dashboard has distinguished itself, where the owner can find out all the necessary information about the condition of the motorcycle.
---
12 Most Expensive Mercedes-Benz Cars
---
Since the manufacturer is from Japan, reliability is an important advantage of this motorcycle. Its resource allows you to drive for a long time without replacing the main parts, spending money only on consumables.
Manageability is a separate plus. A lightweight 15kg trellis frame, coupled with a redesigned swingarm, has made it possible to reduce the weight of the bike, making it much more responsive to handling. The ergonomics of the seat together with the height adjustment of the handlebars make the Kawasaki NINJA 650 an excellent choice for the widest circle of motorists who want to buy their first motorcycle.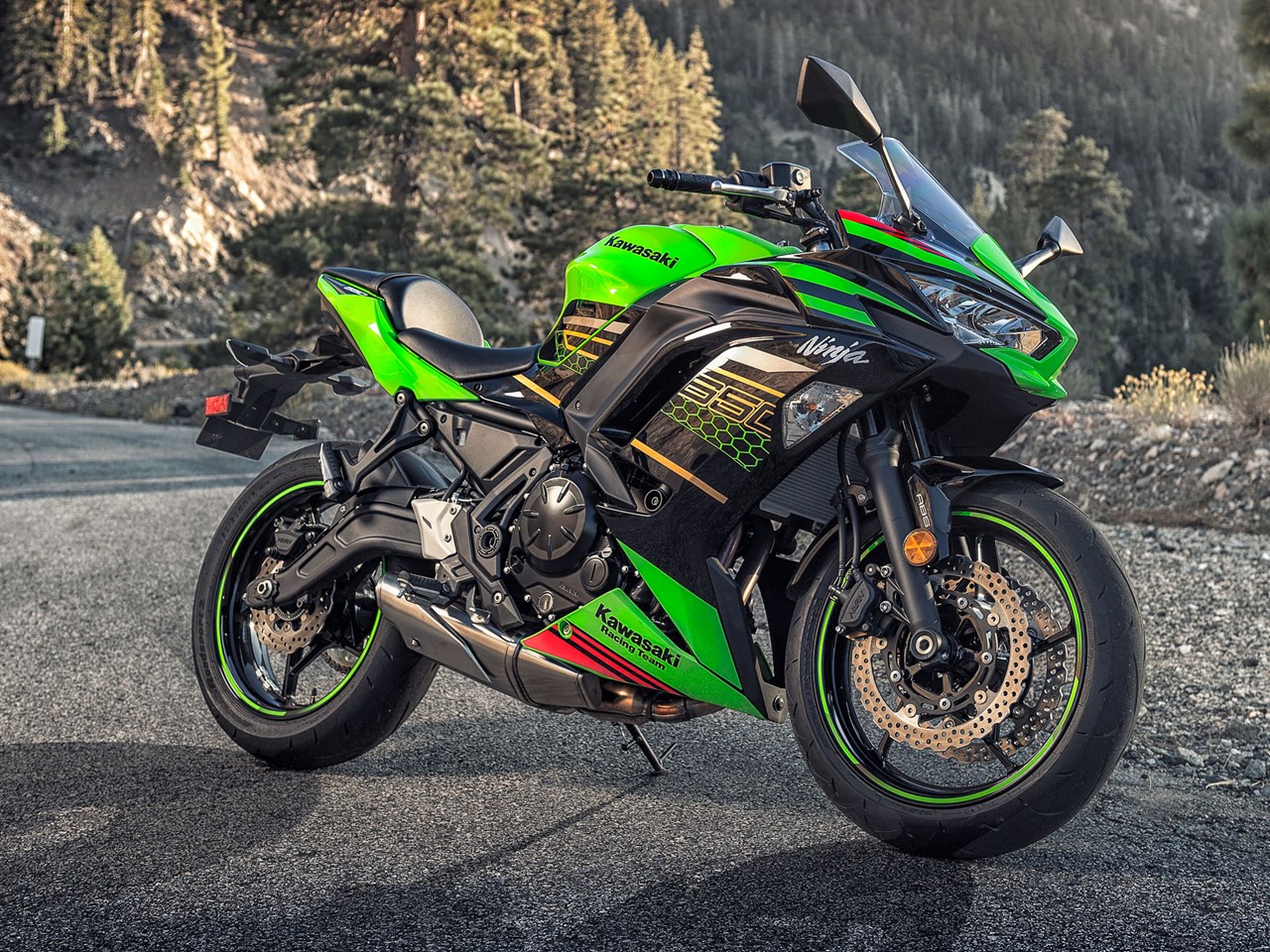 Pros of a motorcycle:
Maneuverability.
Reliability.
Comfortable sitting.
Well suited for long journeys.
Thoughtful design, aggressive and sporty appearance.
Cons of a motorcycle:
Lack of comfortable seating for the second passenger.
Problematic mount for the number frame.
5. Yamaha YZF-R6
The first model was released in 1998. Since then, there have been several reystalings aimed at improving the speed and maneuverability of the bike. 4-cylinder and 4-stroke engine of 600 cubic meters and a capacity of 120 hp. with. allow the Yamaha YZF-R6 to have a very decent top speed for its class of 260 km / h. The 100 km / h mark is crossed in just 3 seconds.
This figure characterizes the bike as fast and sharp, but with good handling, which comes from a 43 mm inverted fork. The weight of the motorcycle is 190 kg, including all equipment. A successful combination of characteristics has allowed the model to appear on many racing tracks. Fuel consumption is 5.6 liters per 100 km, the maximum gas tank capacity is 17 liters.
The bike is not the best handling. And the designers were faced with the task of making all the details as light as possible. Because of what this motorcycle has become difficult for beginners. However, experienced pilots can find many advantages in it, such as soft suspension, good brakes, and fast acceleration.
Those who decide to make this bike their first will need a little practice first. Since driving the Yamaha YZF-R6 at high speed is not an easy task, it requires first of all the experience of driving this particular model.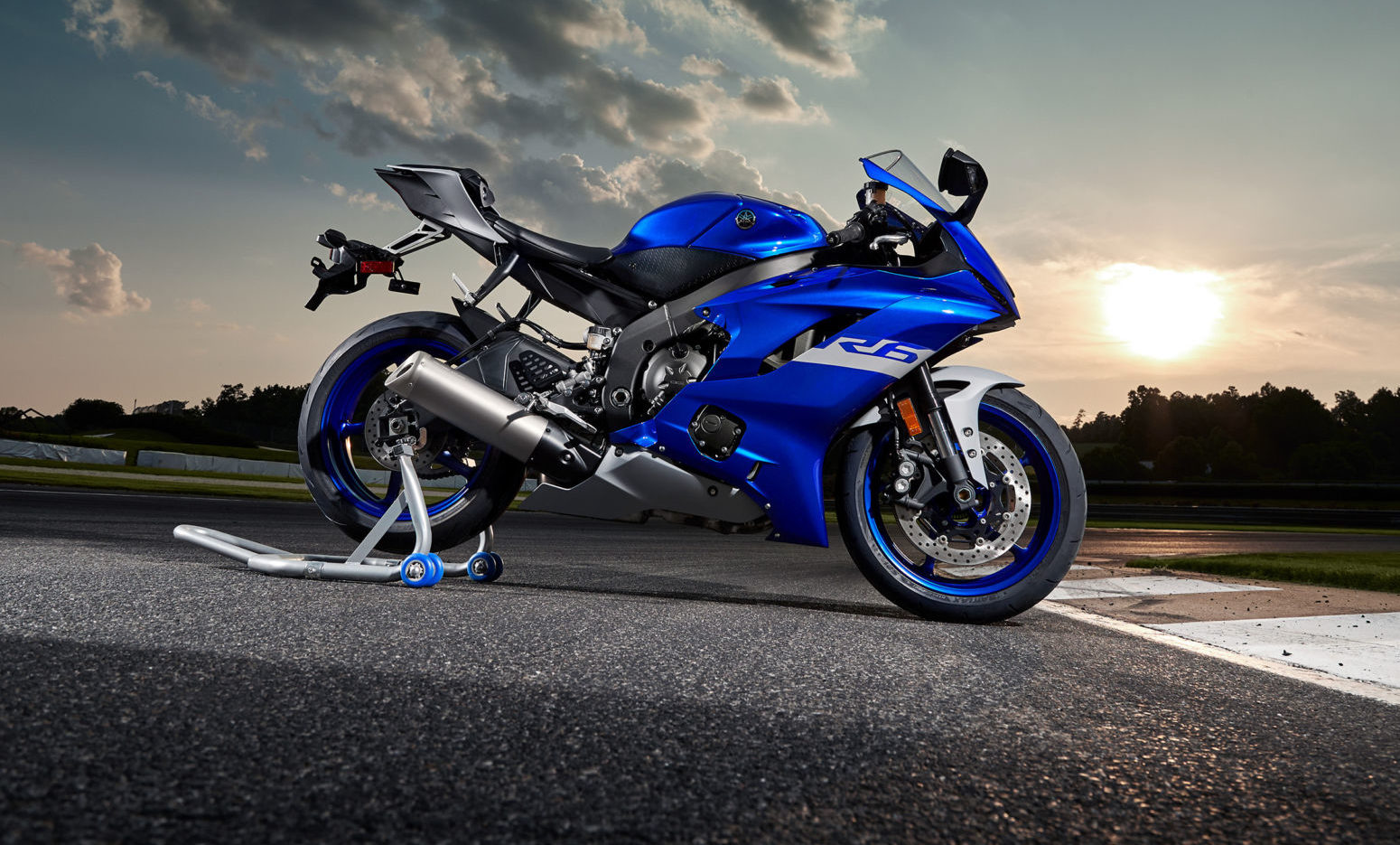 Pros of a motorcycle:
Maneuverability.
Brakes.
Good suspension.
Fast acceleration.
The reliability of the main components.
It is easy to keep your balance.
Controllability (if you get used to it).
Cons of a motorcycle:
Increased oil consumption.
High fuel consumption.
Price.
6. Harley-Davidson ROAD KING CLASSIC
This touring bike is renowned for its comfort. And all thanks to a competent steering wheel, a comfortable leather seat, a durable duplex frame, optimal gear length, and a good 86 hp carburetor engine. with an air cooling system.
---
10 Highest paid hockey players
---
The maximum speed is 165 km / h, which is enough for driving on highways and roads. The bike feels good in urban conditions due to the predictable hydraulic disc braking system. However, due to the weight of the motorcycle at 367 kg, it is clearly not enough, but ABS levels the matter.
The front suspension is a telescopic fork with a travel of 177 mm, the rear suspension consists of a swingarm with a pair of shock absorbers.
Pros of a motorcycle:
Ease of maintenance.
Rubber cushion motor.
Controllability at speed.
Brakes.
Wind and dirt protection.
Full-length rider and passenger footpegs.
Cruise control.
Cons of a motorcycle:
The likelihood of falling at low speed.
Great weight.
Price.
High oil consumption.
Weak headlight.
7. BMW f800gt
The motorcycle has good dynamics for its category and weighs 214 kg. 90 hp engine allows you to accelerate to 100 km / h in 4 seconds at a top speed of 224 km / h.
Comfortable fit, ergonomics of the seat, and all other parts of the motorcycle allow you to cover long distances without severe fatigue. Vibration and noise are noted when driving at speeds above 150 km / h. Good handling and maneuverability make the BMW f800gt a suitable option for beginners who are just getting started with motorcycles. Disc brakes are equipped with ABS.
Pros of a motorcycle:
Controllability.
Dynamics.
Brakes.
Smooth set of speed.
Landing.
Cons of a motorcycle:
Periodically, the 6th gear may not be included.
Knock when shifting gears.
The cost of branded equipment.
8. Honda Gold Wing 1800
The Honda Gold Wing 1800 is a touring motorcycle with comfortable seats for the driver and passenger, a wide windscreen that can be adjusted in height, and a decent 126 hp engine. Fuel consumption is 6 liters per 100 km, the maximum fuel tank capacity is 25 liters. In total, the motorcycle can cover a distance of 400 km without refueling. Weight depends on the configuration and can reach 415 kg.
This motorcycle may not be touring either. In a city where dense traffic of cars does not allow especially maneuvering, some motorists prefer to purchase this particular model because of its comfort and versatility, despite the weaker maneuverability.
Pros of a motorcycle:
Comfortable seating.
Controllability.
Airbags.
Good brakes.
Wind and dirt protection.
Music system.
Several luggage compartments.
Quiet engine.
Best motocross bikes
9. Yamaha WR250R
This bike is not designed for long rides – a hard seat just won't allow you to sit comfortably. Instead, the Yamaha WR250R is suggested to be used for fun on short runs on various trails.
This motorcycle has a powerful enough engine of 30 hp. with a weight of 136 kg, which allows it to reach a speed of 150 km / h. The suspension is adjustable and makes it possible to adjust the motorcycle to any terrain where you plan to drive.
Pros of a motorcycle:
Balanced characteristics.
Controllability.
Overclocking.
Good suspension.
10. KTM 690 Enduro R
The KTM 690 Enduro R is built for off-road driving. However, he is able to cope with urban conditions. Despite the hard seat, it has the high flotation and powerful engine that is required for a bike in its category.
However, it is not recommended for beginners because of the sharp acceleration – frequent drops are guaranteed. Maneuverability allows you to maneuver in traffic at high speed, but due to the small steering angle, you can fall. There is also a full dashboard. The 690cc engine with a top speed of 200 km / h makes this bike a good option for short trips.
Pros of a motorcycle:
High speed.
Maneuverability.
Fast acceleration.
Passability.
Cons of a motorcycle:
Front seat mount due to fragile plastic;
Price.
What to look for when choosing a motorcycle
The weight
A heavy motorcycle is difficult to lift, so the weight must be taken into account when choosing.
Dimensions (edit)
A tall man is unlikely to be comfortable riding a low motorcycle, while a girl finds it difficult to cope with a two-liter cruiser. The dimensions of the motorcycle must correspond to the physical capabilities of the owner, then it will not be difficult to roll it into the garage.
Damage protection
Beginners often fall, especially at first. This can damage the rearview mirrors, tank and plastic parts. The paint will start to peel off and you will need to constantly tint and solder the vehicle to keep it looking normal. All this can be avoided if arcs and sliders are installed in advance. It is possible to do it yourself.
Liquidity
The motorcycle must be popular. Strong market demand provides easy access to parts and people who already know how to handle specific motorcycle models.
Motorcycle cubic capacity
The engine power should be such that it can easily cope with the weight of the owner, but at the same time not give too much acceleration. This will reduce the likelihood of accidents and injuries.
Colour
The color of the motorcycle should be bright. This is true for the first bike. While a beginner is just learning to ride on the road, he becomes a kind of "time bomb". A bright motorcycle will attract the attention of other riders. And, in the event of an unsuccessful maneuver, they will have time to react and avoid creating a dangerous situation.
When buying a motorcycle in the salon, you need to pay attention to the possible twisting of the mileage. Also, a motorcycle can be purchased at an auction, where all equipment is inspected before being sold.
When buying a BU model, you need to look at the condition of the frame, the ignition lock, possible leaks in the engine, the thickness of the brake discs (minimum thickness 4.0 mm for the front wheel and 4.5 mm for the rear). It is advisable to check the voltage at the battery terminals.
Which motorcycle to buy
1. Honda Gold Wing 1800 is suitable for those who prefer a leisurely and safe ride. If necessary, the motorcycle can also be used for long-distance trips, as it is a tourist and adapted for such tasks.
2. Honda CBR 600 RR combines versatility and can be suitable for any purpose. Due to its reliability, regular purchase of spare parts is not required. Since the motorcycle is sporty, it has excellent dynamics and the rider feels good in all conditions.
3. Yamaha SR 400 is suitable for both beginners who are just starting to learn and more experienced motorists who want to succumb to nostalgia for the old days. Reliability and characteristics acceptable by modern standards completely overlap some unsuccessful design decisions.
4. Yamaha WR250R is a great option for speed lovers. The motorcycle is designed for off-road driving and completely copes with this task. A powerful engine, despite some problems with the bottom, is quite capable of quickly rushing a person away. Low fuel consumption and adjustable suspension make the bike very comfortable. This, together with its low weight, makes it a good option for all categories of motorists.
5. Kawasaki NINJA 650 – good transport for any trip. A decent engine and thoughtful ergonomics, together with Japanese reliability, demonstrate the ideal of this motorcycle, but it is intended for one person only. The passenger cannot fit on it. Lightweight and responsive controls make it convenient for beginners and those who are just looking for comfortable transport for all occasions.