What Profitable Businesses for small Towns can you start? If you are in a town and you want to undertake strategically, here we show you 15 profitable businesses for a town that you can start this week.
Now you will know how to choose among the best businesses to invest in a town for the success of any undertaking. This implies not only the location but also the potential scope of said project.
15 Viable Businesses in a Town That are Very Profitable
If you want to set up a profitable business in a town, it is important that you evaluate the market in your region so that you can get the most out of all these profitable ideas that we show you below:
1. Real Estate
If you have enough capital, you can invest in real estate to buy and rent properties for tourists or people looking for accommodation in your target town location.
This is one of the best businesses for a small or large town to earn passive income.
2. Open a Food Truck
A fast-food truck is a good small-town business idea as people are likely to buy fast food on the go no matter if it is during the day or night.
Also consider that you can offer food services to your customers in a comfortable place, outdoors and thus you will not have to pay the high electricity costs that an air-conditioned fast-food place entails.
3. Start a Clothing Boutique
If you were wondering what business to set up in a very small town, a clothing boutique may be one of your best options.
The reason:
The inhabitants of small towns also need to cover their clothing needs and often have to travel to other cities to access a clothing store.
And this is where you can be the first to meet that need!
4. Wedding Dress Rental
Similar to the above, people from a small town, including women, sometimes need a type of dress for special occasions.
Setting up a wedding dress rental business can make you the first option to go to for those women who need wedding dresses.
The most interesting part:
Since it's all about renting dresses and not selling dresses, you don't have to worry as much about in-stock merchandise.
5. Wedding Photography Company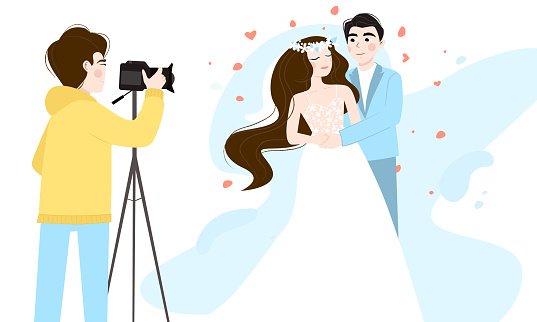 You can start promoting yourself on social networks as a freelance photographer and as your client base increases, you can consider hiring staff to take your business to the next level.
6. Garden Service
In small towns, especially those located in rural areas, many inhabitants tend to have a lot of grass in their houses or land.
This is when you can consider offering lawn and grass cutting services so that clients can maintain an aesthetically pleasing and landscaped garden.
Another advantage is that if you offer a service that fills customers with satisfaction, these will be recurring customers who guarantee a good source of income and in turn, they will recommend you to other potential customers.
7. Open a Bakery
Food is necessary for human survival. You can consider opening a bakery in your region, but consider that you need the necessary equipment to bake.
One tip is that you promote your bakery not only through posters that you would place at the entrance of your premises but also online.
8. Open an Internet Cafe
Another of the best business ideas for a town is cybercafes since many school students need access to a center to carry out their assigned tasks.
With an internet cafe, you can not only charge for the rental time of the computer for internet use, but also for the printing, scanning, or binding services that customers require.
On the other hand, you will also have customers accessing your cyber cafe for the purpose of playing video games online.
9. A Grocery Store
Milk, juice, bread, oil, rice, beans, and others are products that people consume on a daily basis.
If you find a key point in your city, where you identify that there are a good number of people who need a grocery store that is closer to their homes, consider it as an option.
10. Sale of Electronic Products and Accessories
We do not spend them constantly connected to the internet through our smartphones, regularly with headphones.
You can consider establishing a stall for the sale of electronic products or accessories such as cell phone chargers, headphones, cables, and plugs, among others.
11. Set Up a Gym
Many people like to exercise as a way to maintain a healthy lifestyle.
If you notice that a center for physical exercise is lacking in your target town, you can consider opening a gym as a lucrative option in your sector.
It is important that you have the necessary equipment, such as weights, exercise machines, and others.
But that is not all:
If you are a personal trainer, in addition to opening a gym so that clients go to lift weights, you can consider offering directed classes in CrossFit, Zumba (if you master this type of dance), aerobics, etc.
12. Offer Cleaning Services
You can offer home cleaning services as an entrepreneurial option.
You could even target not just individuals, but local businesses in your region that require deep cleaning services.
---
Earn Money With Paid Surveys From Home 2022
---
13. Cosmetics Store
Whether in small towns or big cities, people want to look good.
If in such case, you notice that there is no cosmetics store in your region, you can sell stock products for women at retail.
14. Set Up a Hardware Store
The inhabitants of a town need a place where they can buy tools for repairing or solving household problems.
The screws, tweezers, special rubbers, and others are necessary to carry out the proper functioning of the carpentry work of a house.
15. Open a Greengrocer
Opening a business where you sell fruits and vegetables is a way to satisfy the need for healthy eating that the inhabitants of a town have.