Skyscrapers and mosques, natural beaches, and innovative water paradises – the emirate of Qatar, located in the east of the Arabian Peninsula, combines tradition and modernity. For the 2022 World Cup, numerous international visitors are likely to head to the materially richest country in the world to experience the second World Cup finals on the Asian continent (after Japan / South Korea in 2002 ). Qatar Travel information FIFA World Cup 2022
Qatar travel information FIFA World Cup 2022
Why Qatar 10 highlights and sigh
The Doha skyline, with numerous imposing skyscrapers
"The Pearl Qatar", a man-made island in the west of Doha Bay
Museum of Islamic Art, international art collections
Fort Al Zubarah, an archaeological site that is a UNESCO World Heritage Site
The coastal town of Al Khor, with numerous sandy beaches and green areas
Barzan Towers, old watchtowers in the suburbs of Doha
Katara cultural village, with exhibitions, amphitheater, and restaurants
Mangrove forests of Al Thakira, north of Al Khor
Souq Waqif in Doha, Qatar's most famous market
Beach promenade Corniche Doha, the recreational area around the entire bay
Interesting facts about Qatar at a glance
Area: 11,627 km²
Population: 2,700,000
Form of government: Hereditary monarchy
Capital: Doha
Official language: Arabic
Geography: The desert state of Qatar is located on the Persian Gulf, on the east coast of the Arabian Peninsula. To the northwest of the emirate is Bahrain, another neighboring country is Saudi Arabia in the south. Desert areas and salt marshes form a natural border that separates Qatar from the rest of the Arabian states.
National anthem: As-Salam al-Amiri
Telephone code: +974
Domain extension: .qa
Currency: Qatari Riyal (QAR)
Time zone: UTC + 3
When is the best time to travel to Qatar?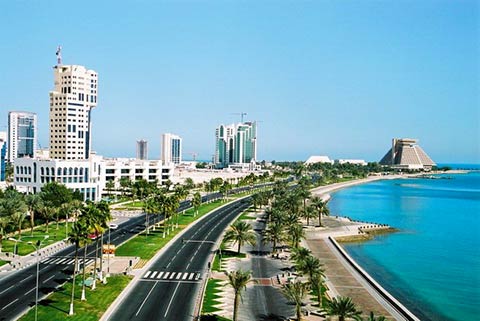 For heat-sensitive vacationers, a trip in spring or autumn is more recommended. Because in summer you can often expect 45 ° C – or more. In winter, however, temperatures between 10 ° C and 17 ° C are usually common.
What is the climate in Qatar?
You don't have to fear a lot of rain on a Qatar vacation. However, the state is located on the Persian Gulf, so you should be prepared for subtropical humidity outside of the summer months. The shamal, a summer wind that regularly blows over Qatar from the northwest, provides some refreshment.
Climate table of Qatar, Doha :
| Months | Jan | Feb | March | Apr | May | Jun | Jul | Aug | Sep | Oct | Nov | Dec |
| --- | --- | --- | --- | --- | --- | --- | --- | --- | --- | --- | --- | --- |
| max. temp. (° C) | 22nd | 24 | 29 | 34 | 40 | 42 | 43 | 42 | 39 | 36 | 30th | 25th |
| min. temp. (° C) | 14th | 16 | 18th | 23 | 28 | 30th | 32 | 31 | 29 | 26 | 22nd | 17th |
| Rainy days | 2 | 2 | 2 | 1 | 0 | 0 | 0 | 0 | 0 | 0 | 1 | 2 |
Which cities in Qatar are worth visiting?
Doha
Variety, excursions, adventure – Qatar's capital Doha has a lot to offer as an imposing business metropolis. Impressive cultural institutions such as the National Museum and the Museum of Islamic Art (MIA), magnificently designed mosques, the mighty Doha Festival City Mall, or the wonderful Souq Waqif market enable an unforgettable stay in the city with its around 600,000 inhabitants.
Doha will host numerous World Cup games during the 2022 World Cup, which will be played at Education City Stadium, Ras Abu Aboud Stadium, and Al Thumama Stadium.
Al-Wakrah
The port city of Al-Wakrah offers an oriental feeling, away from the hustle and bustle in the metropolis of Doha. With two mosques, remains of the old city wall, the large port facility, and the museum in the old fort, the city, in which almost 90,000 people live, offers a number of worthwhile sights.
For the 2022 World Cup, Al-Wakrah has its own sports arena, the Al Janoub Stadium. In addition to games in the group phase, it will also be the venue for a round of 16 and quarterfinals during the World Cup finals.
Ar-Rayyan
Ar-Rayyan is the capital of the municipality of the same name and is located about 9 kilometers from Doha. The historic town center with its imposing buildings from the 18th and 19th centuries is particularly worth seeing. Other cultural highlights for your trip to Qatar are the Arab Museum of Modern Art and the Qatar National Convention Center for concerts.
With the Khalifa International Stadium (national stadium of the Qatari national soccer team) and the ultra-modern, 40,000-seat Al Rayyan Stadium with two venues, the city hosts the World Cup.
Al-Chaur (also al-Khor)
In the northern part of Qatar lies the city of Al-Chaur with over 90,000 inhabitants on the coast. The three historic watchtowers, which were restored some time ago and adapted to their look at the time, are a particular eye-catcher. A special adventure is a visit to the mangrove forests of Al Thakira, where you can explore the flora and fauna of the region either on foot or during an adventurous kayak trip. Picturesque places to relax can be found on the various beaches of Al-Chaur.
In November 2022, the coastal city will become a pilgrimage city for tens of thousands of football fans: the starting signal for the World Cup in Qatar will be given with the opening ceremony and game in the newly built Al Bayt Stadium.
Mesaieed
The desert city of Masaieed around 36 kilometers south of Doha promises a lot of action and adventure. As one of the most important industrial locations of Qatar in the 20th century, the city is now popular with tourists mainly because of its beaches, paragliding and water sports. Off-road vehicle tours through the dunes also promise a special kind of holiday experience.
Lusail City
Lusail City is a new metropolis of Qatar, which is a planned city in the municipality of ad-Daʿayan in the north of the capital Doha. The urbanization project is currently not yet fully completed, but for the 2022 World Cup, the Lusail Stadium will be the largest venue of the tournament with 80,000 planned seats.
Where are the most beautiful beaches in Qatar?
Kilometers of sandy beaches, idyllic bays, and the deep blue sea – the region on the Persian Gulf offers heavenly places to relax.
The Sealine Beach in Mesaieed is particularly popular with sports fans who want to explore the long beaches on action-packed quad tours. Of course, there are also quieter spots here for anyone looking for opportunities to sunbathe and relax.One of the most popular travel destinations in the Inland Sea Beach on the inner coastal waters of Chaur al-Updated. The extensive nature reserve, which UNESCO has considered as a possible world heritage site, offers a breathtaking animal world, beautiful dune landscapes, secluded spots for camping in nature, and of course a sandy beach as far as the eye can see.
The beach of Al Thakira, about 60 kilometers north of Doha, is not only ideal for beach and water activities and walks on the promenade. The resort also offers the opportunity to explore the magnificent mangrove forests along the coast on a kayak tour.
Water sports fun for the whole family awaits on Banana Island Beach. The island, which can be reached by boat from Doha, has everything you need for an exciting day at the beach. Sand and water, banana boat and kayak tours, water slides, and many other options promise entertainment for the young and old.
Discover numerous other beaches in Qatar, such as Zekreet Beach on the west coast or the beaches of Fuwayriţ and Umm Bab, and find your own personal, picturesque retreat.
What are the main holidays in Qatar?
Holidays in 2021
January 1st: New Year
February 9: Sports Day
March 7th: Bank Holiday
May 13th to May 15th: Eid al-Fitr Breaking the Fast (National Holidays)
July 20 to July 22: Islamic Festival of Sacrifice Eid al-Adha (National Holidays)
December 18: National Day
December 31: New Year's Eve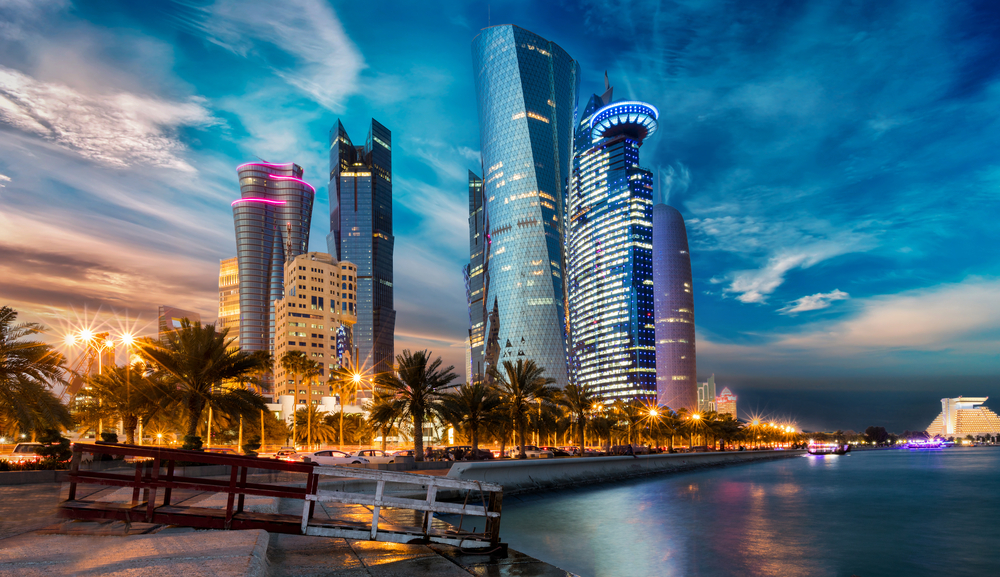 Key events in Qatar's history (selection)
10,000 to 8,000 BC BC: Settlement of what is now Qatar.
The current appearance of the country with its characteristic desert landscapes is probably the result of climate change.
1st and 2nd century AD: The names Catharrei (for a nomadic people) and Catara (for a bay) appear for the first time according to tradition.
1st century AD: Spread of Christianity in Qatar.
628 AD: Qatari residents follow the beliefs of the Prophet Mohammed and Islam.
16th century: Qatar's alliance with Turkey in the fight against Portugal. Subsequently, Qatar was part of the rulership of the Ottoman Kingdom but was still ruled by Arab sheiks.
1760: Bedouin tribes settle in Qatar. Founding of the village of al-Bid, from which today's capital Doha emerged. The most powerful man was Sheikh Muhammad Al Thani, whose descendants rule in Qatar to this day.
18th century: Conflicts with the Al Khalifa clan (settled what is now Bahrain) over the rule of Qatar.
1867: The disputes between the Al Thanis and Al Khalifas broke out again.
December 18, 1878: Treaty between Qatar and Great Britain and securing the supremacy of the Al Thanis. December 18th is a national holiday today.
19th century: Great Britain supports Qatar in its conflict with the Ottomans.
1939: First oil discovery in Qatar. Then friendship treaty with Bahrain.
1971: Great Britain withdraws its troops and Qatar declares its independence.
1972: Emir Khalifa bin Hamad Al Thani takes power.
1977: Nationalization of the natural gas and oil industry.
1981: Establishment of the Gulf Cooperation Council with Bahrain, Kuwait, Oman, Saudi Arabia, United Arab Emirates.
1995 to 2013: Rule of Sheikh Hamad bin Khalifa al-Thani.
2013: Beginning of the rule of Sheikh Tamim bin Hamad al-Khalifa as Emir of Qatar.
What behavior is recommended in Qatar?
Islam is the state religion in Qatar. Corresponding customs (such as the fasting month of Ramadan) or religious holidays are consequently an integral part of the public and private life of the residents in the desert state on the Persian Gulf and should be respected by all guests.
The dress code is also rather conservative: transparent clothing, skirts that are too short, or low-cut tops should be avoided if possible. However, women, especially tourists, are not required to wear a veil. In contrast to foreign visitors, Qatari women usually wear a headscarf and a black overdress (abaya).
Trading with vendors in public markets as well as with shopkeepers is a common phenomenon in the Arab world and it is advisable for tourists to keep this tradition in mind and not be put off by the higher prices initially called out.
In addition, Qatari residents attach importance to the fact that conversations are only started after a previous polite greeting.
Pointing the finger at Qatari residents should be avoided.
It is advisable to find out about other dos and don'ts before traveling to Qatar.
Travel tips for a Qatar vacation Qatari cuisine are particularly aromatic and varied because it offers a colorful mixture of traditional exotic-oriental food with European influences. Typical of the country are the seasoned rice dish machbou combined with meat or the kabsa dishes, which are prepared with rice and chicken or lamb, or alternatively with beef or fish. In Qatar, people like to drink a special lemon and mint drink or a typical oriental Qahwa coffee.
What do I have to consider when entering Qatar?
We have summarized a selection of the travel guidelines. A complete compilation of the information can be found on the website of the Federal Foreign Office.
COVID-19
Qatar is currently classified as a risk area, which is why, according to the Federal Foreign Office, due to the COVID-19 pandemic, warnings are given against unnecessary trips to Qatar that take place for purely tourist reasons.
How the situation in this regard will be in the year of the World Cup in 2022 cannot yet be foreseen.
Political situation & security
Qatar has been in a political conflict with Egypt, Bahrain, Saudi Arabia and the United Arab Emirates since June 2017. Before planning a vacation, you should always find out about the current situation, avoid large crowds and demonstrations, and follow local safety regulations. Not least because the risk of a terrorist attack cannot be completely ruled out, even if Qatar has not yet been the target of one.
Even if the crime rate in the desert state is rather low, it is also advisable to watch out for important documents and valuables in order to prevent the risk of pickpockets.
Which travel documents do I need to stay in Qatar?
If you are a German citizen, you can enter Qatar with the following documents:
passport
Temporary passport with visa
Children's passport
Entry with just an identity card or a temporary identity card is not possible.
What vaccinations should you have for a trip to Qatar?
For a stay in Qatar, all travelers should be able to present current status of the standard vaccinations in accordance with the requirements of the Robert Koch Institute.
Vaccination against hepatitis A is also recommended. If you are planning a longer stay in Qatar, additional travel vaccinations against hepatitis B, rabies, and meningococcal disease (ACWY) are recommended.
What payment methods can I use in Qatar?
Cash
The Qatar riyal is the official currency in Qatar. 100 dirhams make one Qatar riyal. 25 and 50 dirham coins are available, while Qatar riyals are available in 1, 5, 10, 50, 100 and 500 banknotes.
You can exchange euros for Qatar riyals at the airport, in banks, in hotels or in exchange offices.
Debit and credit cards
There are very few ATMs that you can withdraw cash from with an EC or Girocard. However, you can get cash in local currency with the usual credit cards such as American Express, Diners Club, MasterCard, and VISA. You can also use these for cashless payments in numerous restaurants, bars, hotels, and shops.
Withdrawing free money works with a travel credit card.
More tips:
Lots of hours of sunshine, high temperatures: It is advisable not to underestimate the special weather conditions in Qatar.
It is essential to bring enough water with you on excursions and desert tours.
It is advisable to wear a hat to protect yourself from the sun's rays.
Sufficient sunscreen with a high sun protection factor should not be missing in any backpack or travel bag.
Especially in the summer months, you should consider not going on excursions during the day and, above all, not at noon, but rather in the morning or in the evening.
What language do they speak in Qatar?
The official language in Qatar is Arabic. However, during a stay, you can also communicate in English, which is one of the two common business languages ​​alongside Persian. In addition, people in Qatar communicate in Indo-Aryan languages, such as Urdu.
How big is the time difference between Germany and Qatar?
The time zone in Qatar is Arabia Standard Time (AST) and is 2 hours ahead of Germany's time zone, Central European Time (CET). The time change that is usually twice a year in Germany does not exist in Qatar.
Also, Read; FIFA World Cup 2022 schedule