Video Format Changer Software: Need to change the video format? You can convert a clip using online services and programs. But which is better and why? We advise you to use computer software, as web platforms often set file size limits and allow you to upload videos no larger than 100 MB.
PC programs work with all known formats, contain tools for frame enhancement and compression, and also have ready-made presets for smartphones.
Best Video Format Changer Software
In this article, we have compiled a ranking of the best free video converters for Windows. Explore, choose, download, and enjoy!
1. Video Master
A good program in Russian that allows you to convert video files to any format and improve image quality. You can apply effects, remove unnecessary fragments, replace sound, etc.
video master supports output to AVI, MP4, MKV, WebM, FLV, MOV, etc. You can also convert DVD to AVI, extract sound or burn material to disc. In addition, the program provides ready-made profiles for mobile devices, game consoles, players, tablets, and Apple TV, YouTube, VK, Vimeo, MySpace, etc. sites.
You can also manually configure the export settings: set the compression level, select the codec, resolution, frame rate, and bit rate. You can reformat video clips individually or all at once by running batch processing.
2. Any Video Converter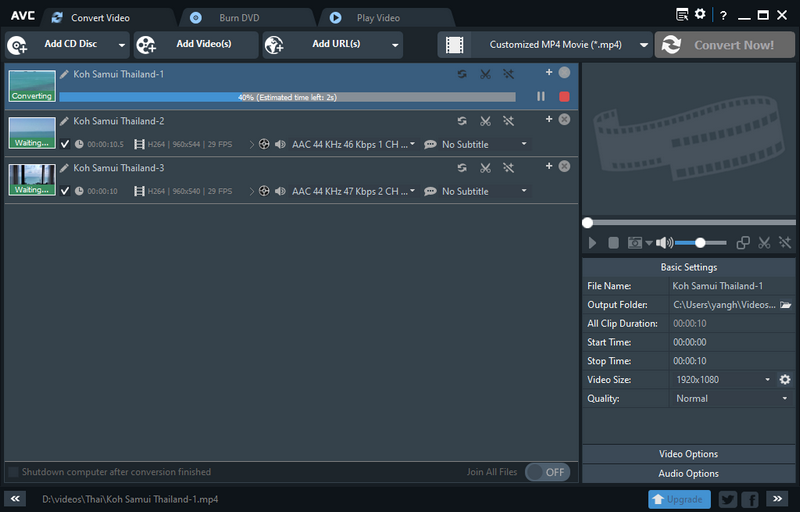 This free video converter supports all known media formats and also offers presets for mobile devices, set-top boxes, and web platforms.
Any Video Converter can convert AVI to MP4, MPEG to WMV, FLV to MOV, etc. Additionally, you can process the material: apply subtitles, cut off unnecessary moments, turn off or replace the sound, merge several videos into one and add watermarks.
The basic version has limited functionality. To extract media from a DVD or create an interactive menu on disc, you will need to purchase the Ultimate package. Its cost is 49.95 dollars.
3. Format Factory
A well-known converter that works with all popular formats. You can extract images and sound, as well as transfer videos to DVDs or create an ISO image. And that's not all: additionally, Format Factory allows you to compress files and recover damaged video files.
Also in the program, you can perform batch conversion and adapt the material for viewing on mobile devices.
The application is distributed freely. Among the shortcomings, users note that in the latest versions, the conversion is often interrupted due to a software malfunction. Also, the software does not remember the last output parameters.
4. Freemake Video Converter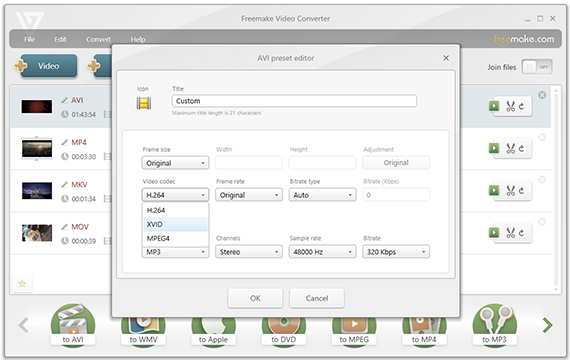 Allows you to process video and display the result in AVI, WMV, DVD, FLV, and other formats. With Freemake Video Converter, you can remove unwanted passages, merge video clips, rotate the picture, replace or turn off the audio track, and add subtitles.
You can batch convert, reformat videos from the network, extract media from DVD and Blu-Ray. When outputting, you can specify resolution up to 4K, bitrate, video codec, adjust FPS, and other parameters.
---
Top 10 Best Laptops For Mining Cryptocurrency 2022 
---
In the basic software tariff, a watermark is placed on the total. To remove it, you need to buy a subscription costing $1.95 per month.
5. Xilisoft Video Converter
The software is designed to convert audio and video, as well as prepare material for playback on iPhone, iPad, iPod, Xbox, PS3, PSP, and other equipment. The software works with 160+ media formats and outputs video clips with a resolution of up to 4K.
Xilisoft Video Converter has a built-in preview player and video editor. The program allows you to adjust the frame size, cut out an unnecessary segment, turn on subtitles, add watermarks and change the saturation, brightness, contrast of the picture.
The application has a slow conversion speed, so the conversion process may take several hours. Also, the free version of the software limits the capabilities of the software and allows you to process only a 5-minute video. To convert large clips, you need to purchase a license starting at $29.95.
6. Free Studio

An application package that includes a video converter program, a tool for downloading clips from the network, a recorder, and a video editor. With Free Studio, you can download YouTube videos and save them to your PC as MP4 or MP3 files.
In the program, you can adapt videos for playback on mobile devices or make a 3D clip. The converter is distributed freely, however, during its installation, it additionally installs third-party software, for example, the Amigo browser.
7. Convertilla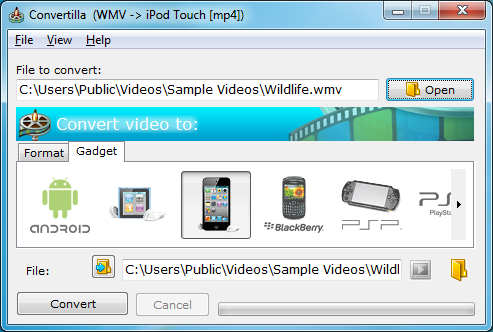 This format converter supports FLV, MKV, MPG, MOV, WMV, M4V, MP3, AAC, FLAC, and other extensions. When converting media in Convertilla, the user can choose the quality of the video sequence and the size of the resulting file.
The software is distributed freely and is available without a subscription for an unlimited time. However, please note that the software has not been updated since 2019 and therefore does not support modern media formats and video resolutions such as 4K.
8. Total Video Converter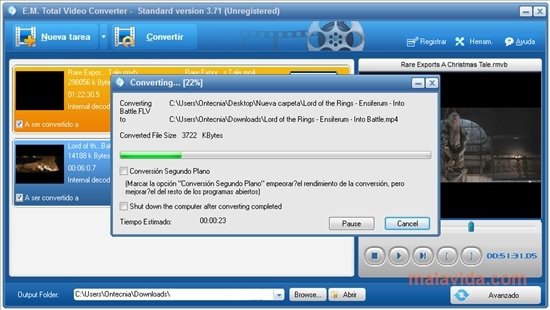 Suitable for reformatting videos, compressing files, and burning movies to DVD. Total Video Converter outputs media to 3GP, XVID, DIVX, etc. The software also provides presets for iPad, iPhone, Xbox360, PS3.
You can manually adjust the reformatting parameters: set the video codec, frame size, FPS, bitrate, frequency, and channel mode of the audio track. The software also allows you to merge several videos into one and extract sound from the clip.
The application is free to download, but the base package does not support some media formats. To access all options, you will need to purchase a license worth $29.95. It is also worth considering that the latest version of the video converter was released in 2010.
9.
Handbrake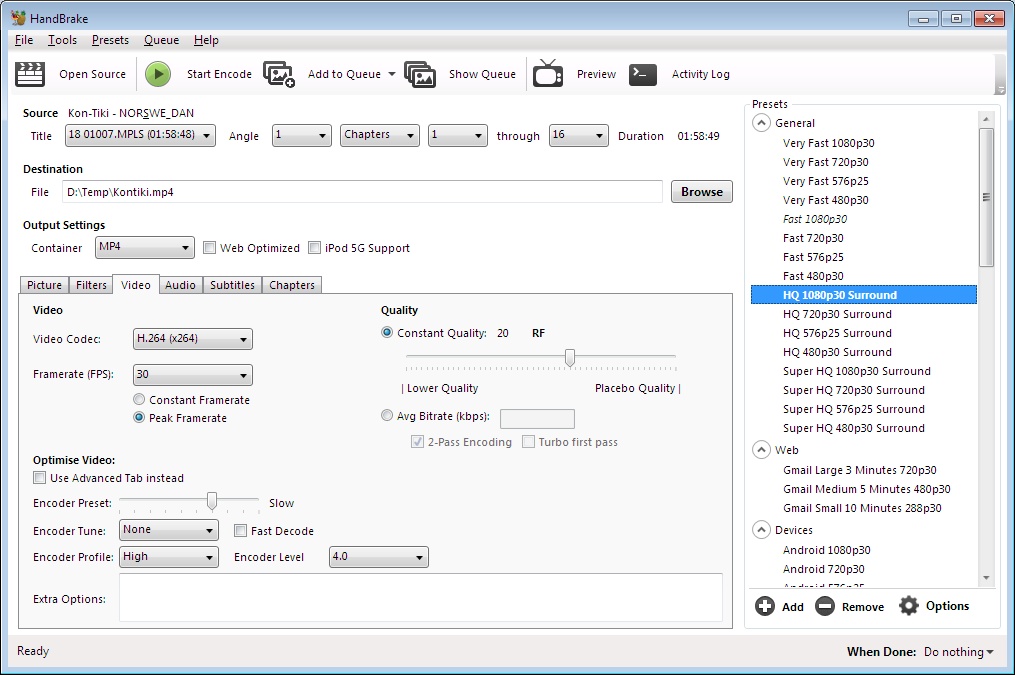 The video converter allows you to change the file parameters for free. In HandBrake, you can select ready-made export presets or manually configure each value: container, resolution, codec, FPS. Also, the user can split the video clip into chapters, embed subtitles, apply filters: deinterlacing, noise reduction, color space, cropping, and scaling.
The application is distributed freely with open source code. In addition to the built-in MP4, MKV, and WebM containers, you can add support for other extensions using third-party plugins.
10. Avidemux
A free open-source video converter that allows you to expand the capabilities of the software and increase the number of supported formats through third-party plug-ins.
Avidemux is primarily intended for video editing, but it will also allow you to reformat media and save to AVI, MPEG, MOV, OGM, WMV, MKV, and FLV. In addition, the software offers export profiles for iPhone, iPod, PSP, Microsoft Zune.
Among the shortcomings of the editor, it can be noted that the interface is not translated into Russian and may seem difficult for beginners.
Conclusion
Now you know how to change the format and other parameters of the video: codec, resolution, bitrate, etc. With the help of applications, you can prepare material for viewing on a PC, smartphone, or uploading to the network.
The best video converter is video master. It supports all popular extensions, offers ready-made output presets, and also allows you to batch convert.