What is a Digital Nomad and How To Become One of Them: Every morning you have to face the same routine, see a boring landscape from your window, and put up with the traffic jam entering the city to be able to get to work on time… Can you imagine being able to dedicate yourself to what you like and also make each day different from the previous one?
Travel the world, or spend a long time in a town lost in the mountains? This is exactly what those known as digital nomads can do. What is a digital nomad? I am going to tell you about it in this article and I am going to explain how you can become one of them.
If you know more or less what the subject is about, surely some professionals from the freelance world who have adopted this lifestyle have already come to mind. Although it may seem like something dreamy, I warn you that it also has its drawbacks, not everything is as ideal as it seems.
I will not entertain you anymore, we are going to see how to be a digital nomad and what are the advantages and disadvantages it may have.
What is a Digital Nomad?
By nomad we mean one who goes from one place to another. In the case of the digital nomad, the concept does not necessarily imply spending the day from one place to another seeing the world, but rather the freedom to be able to do so.
Because what truly identifies these professionals is that they are professionals who do their work remotely. They can be working comfortably from their office or home, but also from a deckchair on the beach, or while taking the opportunity to get to know the Peruvian geography and its culture.
Digital nomadism does not refer to a type of work but rather to a lifestyle. One in which the limits of the office are blurred. Even the schedules do. The freelancer can work from anywhere and at any time. Why? Because, either he works for himself (managing a blog, writing a novel, etc.), or he works on projects in which the important thing is the final result, not how many hours he dedicates to them or when he works on them.
Does a Teleworker Fit This Profile?
Unfortunately, in most cases not. The teleworking style that we have adopted in Spain is very inflexible. Companies have accepted that their employees are not in the office, but they do not want to keep them far away either, because they require them to stop by from time to time. In addition, a teleworker is usually subject to schedules.
A digital nomad is generally someone who is self-employed and has the freedom to manage their work time and the projects they collaborate on.
Types of Digital Nomads
Now that we have a clearer idea of ​​what a digital nomad is, we are going to complicate things a little more. Because not all freelancers who adopt this lifestyle work and live exactly the same.
1. Freelance Nomad
It is the typical example that comes to mind when we think of digital nomad work. A professional who is self-employed (a freelancer) and who has complete freedom in deciding when to work, who to work with and how much to charge.
2. Enterprising Nomad
It is a step beyond freelance. In this case, we are dealing with someone who directly manages their own business. He does not work for others but rather obtains his profits from digital products such as info products or from niche websites where affiliate marketing works.
This is the true paradigm of the digital nomad because he continues to earn money even when he is not working, something that does not happen with the freelancer. This allows you to have more income and enjoy more free time.
3. Nomad For Others
As I told you before, a salaried employee does not usually fit well in this profile. But on rare occasions, we can meet people who work for a company and do have more freedom when it comes to exercising their profession remotely.
Advantages of Working as a Digital Nomad
You Can Work (Almost) Anywhere in The World
In your house, by the sea, in a mountain refuge, in the family home while your brother-in-law is having a barbecue, from Australia… As long as there is an Internet connection, you will be able to do your job. So now you can say goodbye to the routine.
You Own Your Time
If working from 7:00 a.m. to 3:00 p.m. is not your thing, this lifestyle may interest you, because you are free to set your work schedule. You can get up very early and finish at lunchtime, dedicate the afternoon to your work, or get to work while everyone is asleep. In addition, you have the added advantage that you can take a day off whenever you need it, without having to explain yourself to anyone.
You Become More Creative
When you own your time and your destiny, stress and anxiety are less present in your life, which helps to free your creativity. If, in addition, you are a true nomad and go from one place to another, you will live new experiences and discover new cultures. This will enrich you as a person and bring out your most creative side.
Disadvantages of Digital Nomadism
As I told you at the beginning of this article, not everything in this lifestyle is pretty. Here I leave you three of the inconveniences that you can find.
Difficult Technical Problems To Solve
The connection to the WiFi of your house will surely not give you any problem. But if you decide to go explore certain places in the world, you may find that there is no way to get a good connection. In other areas, there are good connections, but the price is exorbitant.
And if you had it, it is the adventure trip, you can directly end up in a destination where access to electricity is a luxury and something practically impossible to obtain.
Can't Work Everywhere
As bucolic as it may seem to you to work from exotic places, the truth is that not all destinations will allow you to concentrate on your task.
There may be a lot of people, you may have a group of students on an end-of-year trip in the next room, or you may not even find a chair and a table. All this will make it very difficult for you to fulfill your professional obligations.
You Can Get Lonely
A priori the idea of ​​working alone from anywhere in the world is attractive, but the reality is something else. No matter how sociable you are, it is possible that after a while you end up feeling lonely and you want to go home more than anything else.
And there's nothing worse for creative work than a mind that can't focus because it's thinking about other things, like how much you miss your family.
How To Start
I am going to give you some advice and recommend tools, but first of all, you have to assess if working as a digital nomad is a good option in your case.
Is Digital Nomad Work For You?
The first thing you have to evaluate is what you do or want to do as a nomadic professional because not all jobs are compatible with this lifestyle. Also, take into account your personal characteristics and your family situation.
This style of work is a good option for people who have strong organizational skills and who don't mind working alone. If you are a person who loves to be in frequent contact with others and is a bit disorganized, it will be difficult for you to develop a nomadic profession effectively.
---
Best Business Schools In The World 2022
---
As for your personal situation, it also influences. Someone who has young children, or has to take care of their elderly parents, does not have as much freedom when it comes to choosing their work schedules or the place they work from.
What I recommend is that you value all these factors. Have you come to the conclusion that you can be a digital nomad? Then the following tips will interest you.
Digital Nomad, How To Start?
I am going to focus on explaining how to become a freelance nomad or entrepreneur because being able to be a nomad with paid work does not depend so much on you but on your company.
1. Choose What You Are Going To Do
When I explained to you what a digital nomad is, I have already told you that more than a way of working, it is a lifestyle. The good thing about this is that you can adopt it by dedicating yourself to very different professions. Later I will tell you about some that offer you enough flexibility to manage your time and be able to work from anywhere.
What I want to emphasize in this section is that the first step you have to take is to decide what you want to do. You are going to leave behind the traditional lifestyle and work, so why not put aside what others say and focus on what you love?
You may be a data engineer at a multinational right now, or maybe you work at a supermarket checkout. But perhaps you are very clear that this is not what you want to do for the rest of your life, no matter how good working conditions you have. It is possible that your dream is to create a blog to share your experiences with the world, or to put your language skills to good use by dedicating yourself to translation.
Do you really want to spend the next 20, 30 or 40 years doing something you don't like? If your idea is to give your life a 180º turn, try to orient yourself professionally towards what you like and give you something more than a monthly salary. Others may not understand it, but you will see that there is nothing more satisfying than dedicating your life to something that you are passionate about, even if you no longer have the security of having a monthly payroll.
2. Establish a Work Routine
It is one thing to manage your time how you want and quite another not to have a routine. Because it is precisely this work routine that makes us more efficient. If you don't have it, even an activity you love can end up becoming hell.
Choose which days and at what times you are going to concentrate your work, and also an order of priorities when facing the tasks. As soon as you have settled into your new routine, you will notice that the work begins to flow and becomes much less burdensome.
If you are going to be a true nomad and you are going to be traveling the world, it may be a good idea to reverse the normal rhythm. I mean that you concentrate your work time from Friday to Sunday because weekends are when there are more tourists everywhere. Thus, for the rest of the week, you will have fewer pending tasks and you will be able to dedicate yourself to visiting the destinations you travel to with more peace of mind.
And one last piece of advice regarding your work routine. As much as you love what you do, and no matter how well you have organized your days, make sure you give yourself a couple of days off a week to rest.
3. Train Yourself in Everything You Need
Nomadic work is closely linked to the digital environment, a sector that is advancing at a dizzying pace. This means that there is always something new to learn, and you should not give it up.
Training can be the foundation of your success. So learn everything you think you need: languages, marketing, accounting, etc. The good thing is that there are now many online training options that you can follow comfortably from anywhere.
If yours is not regulated training, you can opt for self-study. There are many resources that can help you, such as specialized blogs, podcasts, books, and audiobooks on entrepreneurship and business.
4. Create a Source of Passive Income
If you are an enterprising nomad, it is clear that you will have a source of passive income, since that is what your activity is based on. This advice is more aimed at the freelance nomad. If you are going to focus your activity on providing services to clients, do not let all your income depend on them.
A good source of passive income ensures that even when you are not working or finding clients, you are still making money. This will provide you with financial security that will allow you to be much more selective about the projects you decide to work on, which can also give you a little more free time.
---
8 Business Secrets You Won't Know At University
---
There are many ideas to obtain passive income, but the most common is to make info products, create a website or a blog and sell advertising space or even sponsored posts, create an online store in dropshipping format, or try your luck with affiliate marketing.
The good thing is that you can create these sources of passive income while you continue with your normal activity. At first, you will have to sacrifice some of your free time to dedicate it to this project, but as soon as you have it ready you can start earning money while you rest.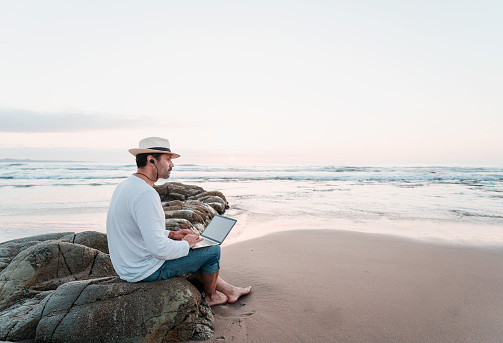 The Tools You Need
Digital nomad work would not be possible without technology. Apart from a computer, a mobile phone, and a power adapter, you will need a series of applications. I leave you a list of the ones that I consider most practical:
The Nomad app – Allows you to book coworking spaces and offices anywhere in the world.
Dropbox, Google Drive, or similar: your information will be much safer if you save it in the cloud. Even if your computer crashes, you'll be able to access the documents you need to work on.
Zoom: sooner or later you are going to have to do video conferences. This application is one of the most used worldwide and stands out for its simplicity.
LastPass: If you want to keep your files safe and you are not willing to go around the world with all your passwords written down in a notebook, this app remembers them for you and helps you manage them.
Calendly: this allows you to automatically schedule your appointments.
Trello – works great if you work as a team. It serves to distribute tasks between different people and know at what point of development they are.
HelpScout – As email will become an essential part of your work, with this tool you can easily manage all your emails.
I could go on and on, but I think these recommendations are more than enough. I encourage you to explore the web a little and discover the apps that best suit your work style.
Alternatives To Working as a Digital Nomad
You already know how to be a digital nomad, but you may not yet be very clear about what you could do for a living. To answer your questions, here are some professions that adapt very well to the nomadic format:
1. Coach
Surely there is something that you are a little better than the rest, and surely it is something that others would be willing to learn. You can take advantage of your training and experience by offering your professional services as an expert coach in law, medicine, digital marketing, accounting…
All you need is a computer and an app to make video calls, and good marketing to make yourself known!
2. Community Manager
Social networks are essential for all types of businesses and professionals, but not everyone knows how to handle them. The good thing about this job is that it is not your typical office job. From anywhere in the world you can manage the networks of companies that can also be located anywhere.
3. Create info Products
This source of passive income includes different digital products that can help people learn more about a certain topic. For example, you can write and sell an ebook about something you are a specialist in, create a digital course and sell it on specialized platforms, make a podcast, etc.
This activity complements the coach very well. Many of your clients will surely be interested in buying your products, and there will also be those who know you through your info products and then want to hire you as an instructor.
4. Writer
Here I include absolutely all the professions related in one way or another to the writing of texts. You can dedicate yourself to creative writing, specializing in SEO writing, copywriting, or creating product descriptions for online stores.
Also, if you are an expert in topics that are in high demand but in which there are not too many specialists, you have the great advantage of being able to sell your texts at a higher price than normal.
5. App Programmer
The application market continues to grow, and good developers are needed. If you are an expert in the field, here is a field of work with a lot of projections for the future. You can create apps for iOS or Android and sell them in app stores, or even develop exclusive apps for companies.
6. And More Options:
Text translator.
Create a dropshipping business.
Teacher of private classes of mathematics, languages, etc.
Create a niche page for affiliate marketing.
Monetize a blog.
Graphic design.
Photographer for image banks.
---
How To Make Money Fast: 19 Ideas To Start Today
---
If Others Can, So Can You
I have found this article that highlights that Airbnb has put its attention on digital nomads because it knows that the number of people who choose this lifestyle is increasing and that is increasing the demand for accommodation around the world.
It is a phenomenon that there is no way to stop, there are already many people who are daring to take the step and change their way of living and working. So, now that you know what a digital nomad is and how to become one, would you dare to make such an important change in your life? My recommendation is that you think about it well and, if you finally decide, go for it!